House 20-16
Pre-Construction Phase
The monumental form stands in contrast with the landscape, while playful shadows of trees paint the surface of the concrete façade. Its imposing character distinct itself from the neighboring houses in the village.
The house has 3 main levels and a basement tucked into the lowest point of the downslope site. The house is pushed back into the site, allowing an ample front garden between the house and the pedestrian.
The design has cut-outs on the massing, and projections that border the outdoors, imparting nature on the structure while extending the indoors to the gardens, and vice versa. Concrete canopies hover over the outdoor areas, with voids that either allow the sun or trees to overlap with the structure. The canopies serve as a transition between nature and structure. Roof gardens and built-in plant boxes also bring in nature to the structure.
A stone and grass outdoor area leads into the house, with bamboos on planting strips that provide shade from the sun. The main entry is a glass and wood projection that connects the foyer to the outdoor area. Public spaces area arranged around the central garden and pool area. Part of the living area is a double-height space, visually connected to the front garden and family room at the second floor, while the other part is connected to the central garden. The wine cellar is located at the basement maximising the climate-controlling qualities of the underground. The bedrooms are located on the second floor, while the deck, office and gym are on the third floor. The master bedroom has a glass ante-room that projects and connects into the roof garden. The bedrooms have sliding wood screens that has operable wood slats that can be adjusted to the preferred amount of sunlight and level of privacy. The office has an interior garden with a glass enclosure that acts as a break to the monumental massing.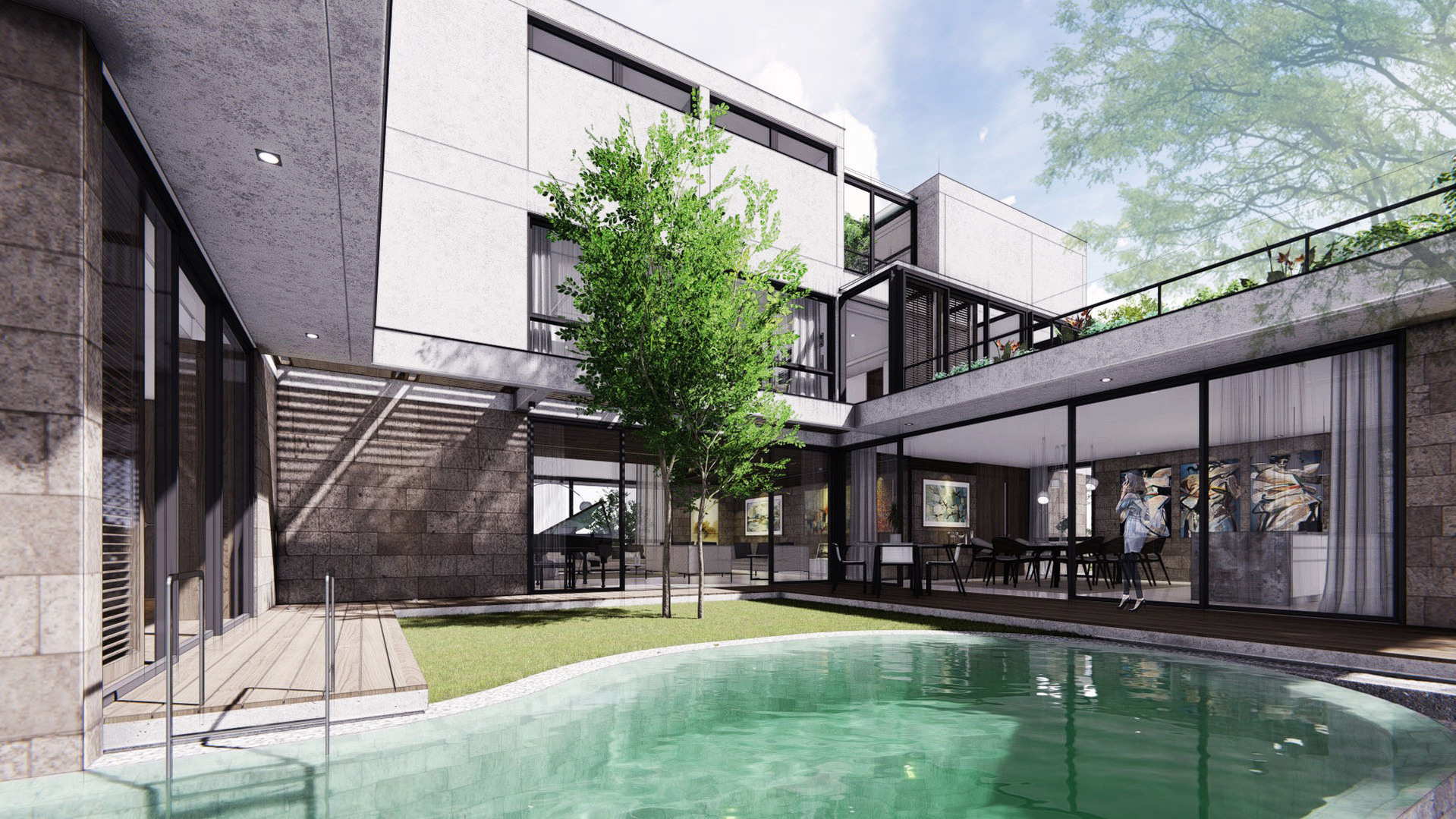 The house is an archetype of a "Bahay-na-Bato", with a base finished in Adobe and sliding wood screens on the upper level. Both materials are found in old Filipino houses creating a sense of familiarity and a domestic aesthetic.